Montana Telepsych Solutions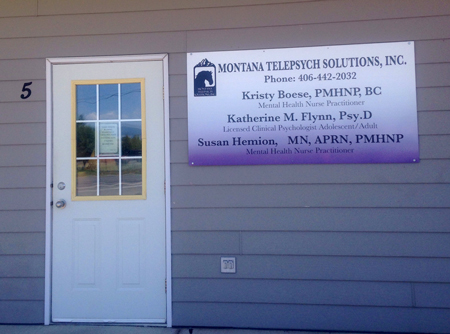 Montana Telepsych Solutions is a Montana based mental health specialty practice providing psychiatric evaluation and prescription management for mental health conditions, we also have a therapist available in our Deer Lodge Office. We are able to see patients in person in our offices located in Butte, Deer Lodge, and Helena as well as by computer for patients unable to travel to appointments.
Through the simple and efficient use of technology as a platform for mental health consultation and appointments, Montana Telepsych Solutions offers clients the ability to access psychiatric services in the convenience of their own home. Through the use of web conferencing, Montana Telepsych Solutions patients are able to quickly and privately access professional mental health expertise through technologies that are commonly in use today.
Owned and operated by Kristy Boese, PMHNP, FNP, BC. Montana Telepsych Solutions provides the most convenient, rapid, and affordable access to psychiatric prescription management throughout the state of Montana. We work hard to ensure you have access to appointments in a reasonable time frame.
We have three office locations 4185 N. Montana Ave. Suite 5 in Helena, 308 Milwaukee Ave. in Deer Lodge and 1425 Dewey Blvd in Butte.
Montana Telepsych Solutions specializes in a number of common psychiatric conditions including depression, anxiety disorders, panic disorders, obsessive-compulsive disorder (OCD), bipolar and mood disorders, attention deficit/hyperactivity disorder (ADHD), and schizophrenia. Montana Telepsych Solutions services are currently only available to residents within the state of Montana. Call or email today for information!